CLAIM 2 CLASSIC KORG SYNTHS WITH REASON 7
Posted on Fri 10 January 2014 in Computer Music
For a limited time (between 6th January and 28th February 2014), anyone who purchases Reason 7 (full version or student/teacher edition) will receive two classic Korg software synth Rack Extensions for FREE upon registration (worth €39 each). The free Rack Extensions up for grabs are the Korg Polysix and Korg Mono/Poly.
Reason 7 recently walked away with the MIA 'Best Music Software' award, as voted for by readers of Computer Music magazine. Reason 7 features a highly visual design, which makes it a fantastic DAW for those that are used to working with hardware (you can even re-wire your software rack) or don't fancy the science lab-esque appearance of many other professional DAWs.
Whether you're wanting to record, mix, or sequence MIDI, Reason 7 has the tools that you need to create complete, professional tracks.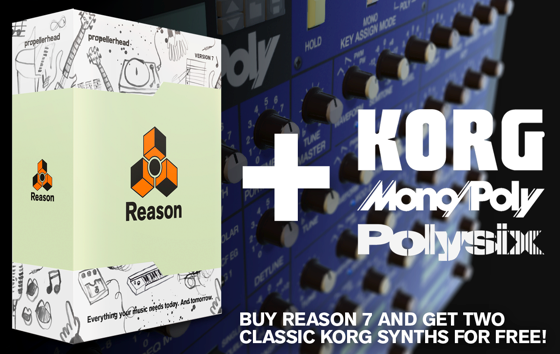 * Please note that upgrades are NOT included in this promotion.
The Korg Polysix and Korg Mono/Poly Rack Extensions provide software emulations of two classic sought-after synths. They are also two of Reason's most popular Rack Extension instruments.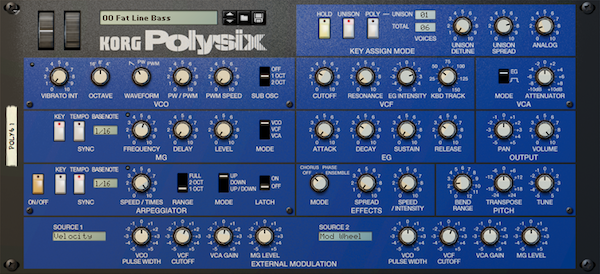 The original Polysix (introduced in 1981) was a programmable six-voice polyphonic analogue synthesiser. Its characteristic sound and wealth of programmable features made it a huge success, and you'll find that it's still a highly desirable instrument today.
The Polysix has now been emulated as a Reason Rack Extension instrument, using Korg's proprietary CMT (Component Modeling Technology) to accurately model the circuitry of the original analogue synth in software form.
However, that's not all, as the Rack Extension Polysix has had its polyphony extended to 32-voices, there's up to 16-voices of unison available, you can now set up external modulation settings, plus there's MIDI clock synchronisation and a 'spread' effect.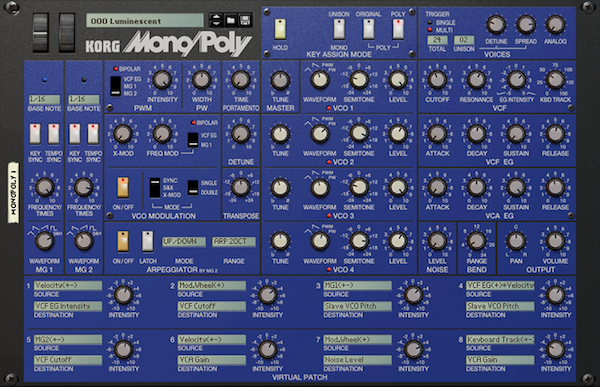 The original Korg Mono/Poly was a monophonic instrument with polyphonic capabilities. Again, this synth is still an extremely desirable unit, and one that many people will include in their 'best synth of all time' list!
As with the Polysix, the Mono/Poly has been re-created as a Reason Rack Extension using Korg's Component Modeling Technology to model the original sound of the analogue instrument, although additional features have also been added, such as 8 virtual patches for hugely flexible modulation routing, 16-voice unison and up to 128 voices.
For more information on Reason 7, click the links below, give us a call on 01202 597180 or e-mail shop@absolutemusic.co.uk.