September Synthogy Ivory II upgrade offer
Posted on Thu 01 September 2016 in Computer Music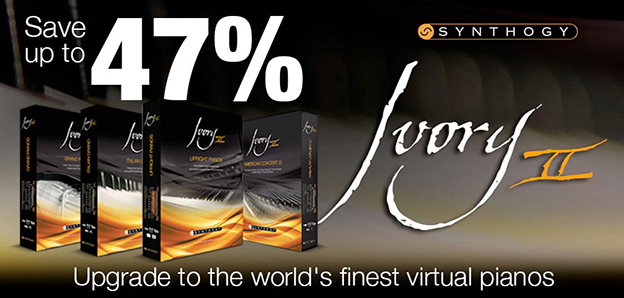 for the duration of September there will be savings of up to 47% on Synthogy Upgrades (download versions only). Since it was introduced, Synthogy's line of Ivory II virtual pianos has broken sales records and won numerous awards from the press. The reason is clear: Ivory II is by far the most advanced, best-sounding, and most intelligently designed virtual piano engine available.
While the original Ivory pianos made history as the first instruments of their kind, Ivory II bounded leaps ahead in quality and playability, rewriting the standard for what virtual pianos should be. With up to twice as many velocity layers, exclusive Harmonic Resonance Modeling for realistic Sympathetic String Resonance, half-pedaling, timbre shifting, a myriad of EQ and reverb settings, and more, Ivory II is the standard by which all virtual pianos are measured.
FOR MORE INFORMATION GIVE US A CALL ON 01202 597180 OR E-MAIL SHOP\@ABSOLUTEMUSIC.CO.UK.