Clarett 8Pre and 8PreX 15% off Voucher Campaign
Posted on Tue 05 April 2016 in Computer Music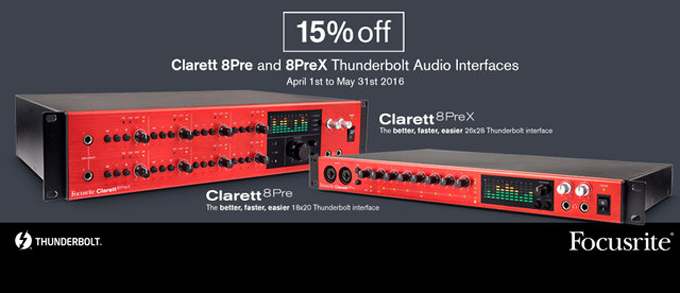 The Focusrite Clarett interfaces deliver class leading audio quality with the blinding speed of Thunderbolt to make recording better, easier and faster. Now you can upgrade to the Clarett 8Pre or 8PreX thunderbolt audio interfaces at a reduced cost. Simply use the voucher code "CLARETT" at the checkout to get an additional 15% off.
The  Clarett mic preamps replicate the impedance and transformer resonance of the original ISAs resulting in exceptional clarity and the signature sound for which Focusrite has become famous. For a limited time only you can save an extra 15% off the  Clarett 8Pre or 8PreX thunderbolt audio interfaces.

As you¹d expect from a company this passionate about sound, Focusrite's Clarett interfaces offer crystal clear conversion with 24bit, 192 kHz sample rates and best-in-class dynamic range.
SOUND IS EVERYTHING
This comprehensive attention to sound quality, combined with Thunderbolt latency performance that unlocks the real-time processing power of your DAW makes the new Focusrite Clarett range the best-sounding, lowest latency interfaces in their class.
FOCUSRITE CLARETT RANGE AT A GLANCE
New Clarett preamps model the classic ISA design
Best in class dynamic range: 116dB A/D and 118dB D/A
Latest Thunderbolt technology ensures interface latency of under 1ms
24bit, 192kHz sample rates
Expandable via ADAT
Detailed metering
Includes MIDI I/O
FOR MORE INFORMATION GIVE US A CALL ON 01202 597180 OR E-MAIL SHOP\@ABSOLUTEMUSIC.CO.UK.