Izotope Stutter Edit Plug-in Reduced For A Limited Time Only
Posted on Thu 11 September 2014 in Computer Music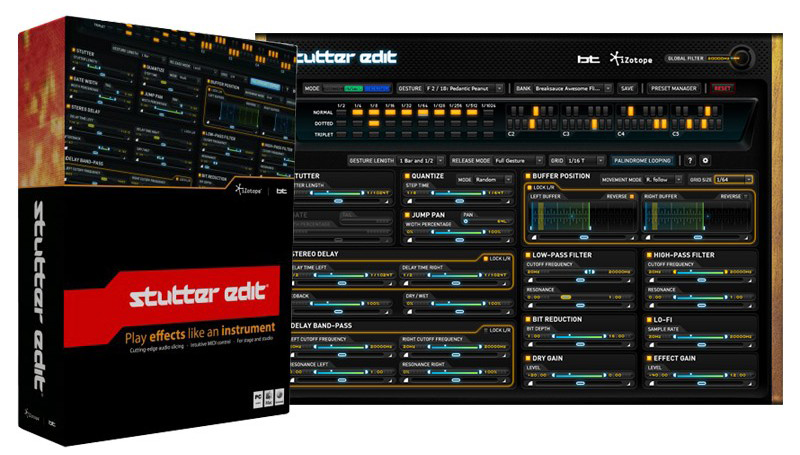 Stutter Edit is an innovative tool for both studio and stage, designed by BT and developed by isotope. For a limited time only we are reducing the price to an amazing £59.95 instead of it's normal retail price of £145.
MAIN FEATURES
Play effects like an instrument
Remix in real-time, on stage or in the studio
Cutting edge audio slicing and manipulation
Elegant and intuitive MIDI control
Stutter Edit is an innovative tool for both studio and stage, designed by BT and developed by iZotope.
Tear up your tracks in real time, building thrilling fills, complex effects, shimmering sweeps, and staggering stutters that will leave your listeners screaming for more. They'll think you spent hours slaving over the slices…but all it took was a press of a key. (Don't worry, we won't tell!)
http://www.youtube.com/watch?v=GHcXv84psqI
Push your performances and production into a new realm of musical intensity with Stutter Edit.
Stutter Edit's features revolve around an innovative engine that continuously samples live audio, storing that audio in a buffer that can be manipulated in a myriad of ways.
The key to unlocking Stutter Edit's capabilities is the use of Gestures: a set of effects and their associated timelines that reside on a single MIDI note. The audible result of a Gesture can vary from simple to complex—a Gesture could simply repeat a small chunk of audio at an 1/8 note rhythmic rate, or it could trigger a run of raging glitches that get decimated by a bit crusher before being filtered into a wash of echoes.
Condensing such sonic adventures into a single key press is what makes Stutter Edit so playable, especially with its intelligent sense of timing. Stutter Edit is designed with musicality in mind, which frees you to make wild sounds that still feel like a natural part of your tracks. Outside of the studio, couple Stutter Edit with a host like Ableton Live to rocket your performances into a new world of organic improvisation.
FOR MORE INFORMATION ON STUTTER EDIT, CLICK THE LINKS BELOW, GIVE US A CALL ON 01202 597180 OR E-MAIL SHOP\@ABSOLUTEMUSIC.CO.UK.